Team
Dan Swindall
Founder and CEO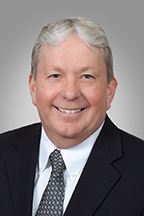 Dan Swindall is the award-winning Founder and Chief Executive Officer of an award-winning company that recently began its third decade of providing quality security service to its clients. An Arizona native, Dan has more than three decades of security experience that began with an extended overseas tour as a security policeman in the U.S. Air Force.    
After his Honorable Discharge, Dan parlayed $500 and two employees into a multimillion-dollar, multi-state operation that has been recognized by local and national bodies for its ethics, entrepreneurship and job creation.    
Blackstone became the only private security company to win the Arizona Better Business Bureau's Torch Award for Business Ethics in 2012. Since then, Dan represented the BBB as a featured speaker at a national Integrity Summit, a member on its ethics selection committee and as a panelist during the BBB Best Practices discussions. In 2014 Dan was named CEO of the Year by an executive-level magazine. Dan authored a monthly magazine column on corporate security and served an unprecedented three consecutive terms as the Chair of the Arizona Private Security Professionals' Association (APSPA).    
Dan is also active in the Phoenix Chapter of the American Society for Industrial Security International (ASIS), the International Association of Security, Investigators and Regulators (IASIR), the Alliance of State Private Security Associations (ASPSA) the Associated Security Services and Investigators of the State of Texas (ASSIST), the California Association of Licensed Security Agencies (CALSAGA) and the New Mexico Private Security Association (NMPSA).  
Jeanne Croft
Chief Operating Officer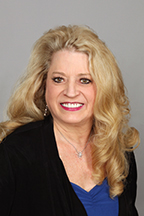 Jeanne Croft's colleagues at Blackstone Security Services, Inc. describe her as a Type A personality who is a problem-solver, conscientious, tenacious and very organized. For years, Jeanne has been the catalyst that keeps company representatives on task, on time and on the mark when it comes to fulfilling contract requirements in accordance with Blackstone's quality standards.  
Personalities at Blackstone are as varied as our client base, and Jeanne has always managed to unite these personalities behind the singular purpose of customer satisfaction.  
Blackstone's increase in business and client satisfaction is directly attributable to Jeanne's work ethic and her attention to detail, first as the Vice President for Sales, then as Executive Vice President. As EVP, Jeanne's ensured customer satisfaction by conducting periodic audits of all facilities regarding updates of post orders and quality assurance surveys. She also meticulously recorded all customer concerns and the resolution of those concerns.  
As COO, Jeanne continues building on her strength of customer satisfaction by working closely with the CEO to define Blackstone's vision going forward, set policy and oversee the company's overall performance.  
Jeanne's success in building new business and retaining satisfied clients is the result of 20 years' experience working in industries that needed on-site security services, arming the South Dakota native with inside knowledge concerning client security needs before contacting them. She brought with her an awareness of the security needs and issues of clients, such as commercial property management companies, when she joined Blackstone in 2004.  
Jeanne is a big reason why the secret to Blackstone's success is in its people.  
Raul De Leon 
Vice President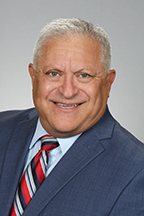 Raul De Leon has served in just about every management capacity imaginable, including scheduling manager, operations manager, business development manager, client value manager and general manager.    
In his 25 years in the security industry, De Leon has managed personnel and programs; analyzed and evaluated client relations and overseen operations at multiple sites across state lines.    
Nearly all De Leon's security experience has been in his native Texas in and around El Paso and San Antonio. De Leon's skill set is tailor-made for the security industry. Add to that his familiarity with the El Paso market and De Leon is a near perfect fit for the task at hand.    
De Leon is also a U.S. Navy Veteran, serving four years as a radio operator. After his honorable discharge, De Leon served in the Civil Service in the Department of Defense where he worked as an Electronic Digital Computer Mechanic. That post carried with it a top-secret Crypto Security Clearance.    
De Leon said he was attracted to Blackstone initially because it is a family- oriented business and calls El Paso a gold mine waiting to be explored. He said El Paso is the logistics hub of West Texas.    
De Leon is a graduate of San Benito High School in San Benito, Texas. He is a member of ASIS and is licensed by the Texas Board of Private Investigators and Security Agencies.  
Emilio Montano
Director of Business Development
Emilio is a talented and dedicated sales manager with a broad base of experience in identifying and developing new clients within a defined territory which makes him the perfect Business Development Manager for Division 53, Blackstone Security Services in Dallas, Texas. He is a spirited problem solver that can identify prospects needs and concerns and then manage and develop solutions that gain the desired results for each client. He has the ability to work independently or in a team environment by supporting and developing working solutions. He has a consistent and solid partnership with the operations team to support market development and has worked in the Dallas/Ft. Worth area for over 20 years.
Emilio is a man with a plan and is proficient in account management, new sales, strategic selling and planning, training and more. He has strong relationship building skills through frequent contact and communication. These qualities along with his previous work experience have prepared him for developing the best solution and managing any situation that lands at his door. In his previous employment, Emilio worked closely with corporate key players to help launch an extremely successful micro market program for the ARAMARK Dallas Market Center, exercising his amazing work ethic and problem solving skills.
Emilio is no novice to the security industry and with his multiple years of sales, account management and customer service experience, Emilio is an outstanding addition to the Blackstone Security Services Team.
Amanda Rash
Human Resources Manager
Amanda Rash is an energetic and enthusiastic leader who collaborates and communicates effectively amongst all personnel levels by practicing outstanding customer service and excellent interpersonal skills.
Amanda is a problem solver with exemplary time management and organizational skills, as well as notable administrative and IT skills with the ability to multitask and adapt in a fast-paced environment. She is proficient in training and development to achieve company goals and drive growth.
Amanda is always willing to try new things to further her knowledge and ensure the success of the company. Amanda and all her outstanding qualities seem to be the perfect fit for the ever-expanding Blackstone company.
When Amanda is not at work, she can be found spending time with her husband and two children. As a family, they enjoy watching movies, playing games together, reading and watching the Coyotes play as they are season ticket holders.
Ken Vandiver
Corporate Training Coordinator – Phoenix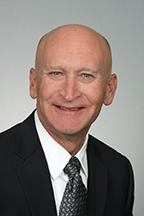 Ken Vandiver's 16 years of experience in the security industry is built upon a solid foundation of law enforcement that includes field experience, leadership, tactical training and administration. He has put in long hours in the classroom, on the street and on his post.  
As Director of Operations for Blackstone's largest division in Phoenix, Ken oversaw approximately 300 security personnel and was responsible for scheduling, billing, settling client conflicts, dispatch and hiring among other duties.  
As Corporate Training Coordinator, Ken personally develops, updates and conducts the training curriculum for more than 300 employees and new hires in the Phoenix Division. He also actively consults and monitors the training of more than 500 employees in seven divisions in four states.  
A Texas native, Ken founded his own company and was an entrepreneur for 16 years prior to becoming a law enforcement officer in Missouri. During that time, he became well acquainted with the importance of solid training whether it involved loss prevention or customer service.  
During his years as a sheriff's deputy, Ken received experience in a variety of areas, including Road Officer, a Field Training Officer, A SWAT team member, a Sniper, an Expert Witness during court appearances, and Report Writing.  
Ken's discipline, dedication to duty and attention to detail make him the quintessential prototype for a security training coordinator and a role model for everyone he trains. His training and supervisory experience enable Ken to analyze employee performance and initiate corrective training measures in a timely and efficient manner.  
As the Corporate Training Coordinator, Ken Vandiver has the experience to equip all Blackstone personnel with the Blackstone Edge.  
Bobby Holley
Quality Assurance Manager  
Bobby Holley is a veritable encyclopedia when it comes to security. He has done it all, and he's done it all over the world. Bobby recognizes a quality performance when he sees it and he knows how to elicit quality performances when needed. This is good for Blackstone and great for our clients.
His ability to navigate the complex provisions of state and federal laws qualify Bobby as the ideal candidate to spearhead Blackstone's pursuit of government contracts at all levels. Known as "The Asset" among his peers, Bobby's analytical skills and shrewd business approach has earned him a space as one of the all-time greats in Blackstone's rise as a force to be reckoned with in the Southwestern and national security landscapes.    
Bobby is a former Assistant Director of Operations for Blackstone's Phoenix Division and was the initial Project Manager when Blackstone opened its Dallas office. He eventually assumed the role of Manager of the North Texas Region.  
A veteran of the U.S. Army Military Police, Bobby has been a businessman, a Special Operations Consultant for the US military in Baghdad, a Security Director for several private companies, a Claims and Surveillance Senior Investigator, a Training Investigator, the Chief of Security at a U.S. Air Force auxiliary field in Arizona and a Youth Corrections Officer in the Arizona Department of Juvenile Corrections.    
Bobby has effectively trained new security personnel in duties, applicable laws, regulations and procedures for more than 20 years. He is trained in Video Surveillance Techniques; Audio Recordings for Interviews; Hostage Negotiations; Crime Scene Processing and Computer Assisted Drafting for Crime Scene Re-creation Diagrams from Central Texas College and the U.S. Army. Bobby has authored and implemented policies and directives that have established and maintained an effective security force for various locations, threats and terrains.    
Bobby regularly travels to Blackstone's divisions to assess their effectiveness and to consult on operational improvements.
Rhonda Gaudette
Controller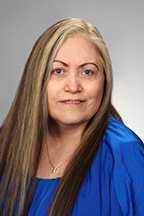 Rhonda Gaudette is no novice to the accounting industry. Rhonda has been managing accounts for multiple companies for over 25 years. She joined Blackstone in 2017 and has continued to succeed in her duties handling all finance responsibilities and making sure all accounts are managed in a timely manner.
A Phoenix native, Rhonda has extensive knowledge of the surrounding areas in the valley, helping seek out various companies that have a security need. During her career, she has not only handled the ins and outs of daily office duties and responsibilities but has also been involved in overseeing various office operations and even some marketing.
Rhonda's previous work history has helped shape and prepare her for the giant role she plays in Blackstone Security.
Rhonda has always worked closely with her previous employers and does exactly this within Blackstone, making her a valuable and trustworthy asset to the Blackstone Team.
When Rhonda is not crunching numbers and making sure the staff gets paid, you can find her spending time with her fur babies.
Rhonda's hobbies include arts and crafts, graphic design and cartooning. She has been creating her own cartoons since she was a child.
Sarai Kohler
Account Receivable Manager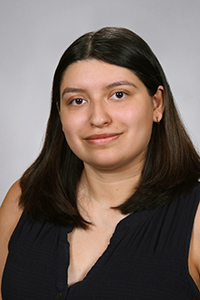 Sarai Kohler is an avid learner who executes tasks in an efficient and timely manner. With her previous experience as a team trainer and shift supervisor, Sarai is an excellent addition to the Blackstone team as the Account Receivable Manager.
Sarai is a quick learner and no novice to supervising accounts and being a team leader. She is a problem solver who is not afraid to follow up with her team and make sure they are hitting their deadlines.
Sarai began her career in the security industry as a Security Guard and quickly moved her way up to Supervisor within her first year. Not long after she was promoted to Dispatch and shortly thereafter she became Blackstone's Account Receivable Manager.
When she is not collecting payments and supervising accounts, Sarai can be found doing arts and crafts, renovating her house with her boyfriend, playing video games and taking care of their 3 cats and puppy.
Jim Ayala
Phoenix Division Manager
Jim Ayala is an astute businessman who specializes in hiring and recruiting, which comes in handy with his passion to find the best security officer suited for each of his clients needs. Always ready for a challenge, Jim has been promoted from his former role of Hiring Manager and is now the Division Manager for Phoenix and oversees all the Phoenix/Metro operations.
Jim has been in the security industry for over a decade. With over 11 years experience in hiring and recruiting, Jim has established quality relationships among his peers and clients which has allowed him to efficiently develop and launch smart strategies to secure and address individual needs of his clients at each of their specific sites. Jim has created quality post orders and security operational procedures which have proved to have successful outcomes in training strong officers.
An extremely trustworthy and personable individual, Jim is very approachable and offers excellent advice and well thought out strategies for challenging situations to help suit specific client needs. Always with a smile on his face, staff and clients find it easy to discuss important details and brainstorm ideas with Jim.
When Jim is not formulating plans for operations, he can be found spending time with his wife and supporting local businesses, while always looking for opportunities to keep the community safe. Jim is an excellent asset to the team and Blackstone is excited to continue to watch Jim thrive.
Adam Roberson
Tucson Division Manager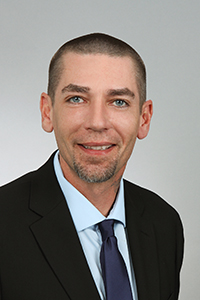 Adam Roberson comes to Blackstone with a wealth of experience in business management and compliance. He was a former OSHA forklift instructor and AZDPS Guard Card Trainer. Adam is a great leader that can multitask and learn new skill sets quickly, even under pressure.
Adam was originally hired as a security guard in October 2020 and within 6 months was promoted to daytime supervisor. Continuing to shine, he was promoted again in 2022 as Tucson's Division Manager where he oversees all of the Tucson operations.
Adam is very organized and resourceful and has self-taught himself various skills. He has strong customer service skills and work ethic. Staying up to date with technology, Adam is extremely savvy on the computer and Blackstone is lucky to have him leading the Tucson Division.
KJ Jackson
Dallas Division Manager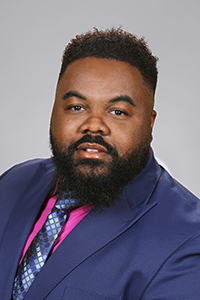 KJ has been in the security industry for over 15 years and truly loves every aspect of the field. KJ is a strong business leader who works hard to build a strong foundation for future team members to follow and strives to provide premium profit while absorbing minimum loss. He is technology savvy and is familiar with multiple computer software to help get his job done in a clean and timely manner.
KJ is no novice to the security industry and is in touch with many aspects of the field. He has extensive experience in management and has overseen operations while providing knowledgeable feedback to his team. KJ understands the significance of training and works diligently to make sure he and all staff continue training to stay ahead of the competition. KJ has excellent leadership skills and is able to quickly identify a complication and offer a clever working solution to ensure smooth operations.
KJ is certified in Budget Development and Management, Private Security Level 1,2,3,4 and has certifications in ASIS BOMA Security Stars 1,2. KJ has previously worked for the State of Texas Department of Public Safety and has been an instructor for firearms and defensive tactics. He has managed and overseen operations for Trident and U.S. Security Associates and is currently the Division Manager for Division 53, Blackstone Security Services in Dallas, TX. With his veteran experience in the field, Blackstone is honored to have KJ on the team.
Danielle Perkins
Houston Business Development Manager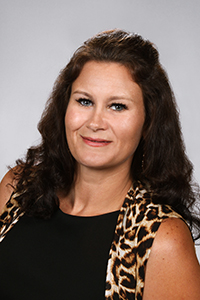 Danielle is a young energetic professional who is highly skilled in sales, management, human resources and customer service. She is observant and quick thinking and is able to efficiently master new business processes and quickly comprehend all aspects of complex situations. She excels working independently and also performs exceptionally well within a team in both leadership and collaborative capacities.Danielle is a highly ethical business woman who builds creditability and trust with the internal and external customer. She is analytical and takes a systematic approach to all sales and financial reports, policies and procedures.
Although new to the security industry, Danielle has years of account management and sales experience in the Houston area. She specializes in business development and has grown business immensely for her previous employers. She is also familiar with the importance of training and has acted as a coach and mentor for new employees. Being highly organized, she tackles all tasks with ease and establishes trust and team building by developing and maintaining friendly relationships with her team and clients.
With the drive an energy Danielle holds, Blackstone is excited to have her on the team as the Business Development Manager for the Division 54, Blackstone Security Services in Houston, Texas.
Anthony Taylor
Houston Division Manager  
Anthony Taylor's stock has been rising at Blackstone since he was hired as a security guard in the summer of 2018. In fact, when he was hired, Taylor's former boss called the owner of the company to say he had hired someone who would be a division manager someday.  
Taylor's leadership skills soon became evident and he was promoted from security guard to Lead Field Supervisor to Assistant Operations Manager to his current position of Division Manager, as predicted.  
Taylor earned his spurs by excelling at every task assigned to him. He honed his customer service skills by successfully catering to the company's most demanding clients in the division. Taylor's supervisory prowess was made evident by his ability to effectively communicate with guards after being promoted to field supervisor.  
Taylor is a leader by example and has demonstrated an amazing willingness to take on difficult assignments for the sake of his team and make individual sacrifices for the good of the company.  
A 13-year veteran in security, Taylor spent the first seven years of his career at Texas Southern University in Houston, where he learned patience and how to interact with diverse populations.  
He is adept at providing support to guards standing post and motivating them to exceed client expectations. He instills confidence and peace of mind in all Blackstone clients who meet him. Taylor has shown repeatedly that he is an excellent primary point of contact for Blackstone.
Linda Williams-Taylor, Ph.D.
Houston Business Administrator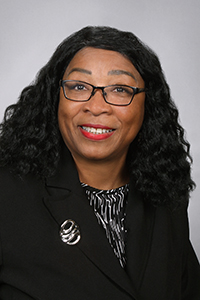 Linda is a well-rounded, highly intelligent Business Administrator with a Ph.D. in Higher Education and years of leadership and management experience in the business field. Not only is she an exceptional Business Administrator, but she also has vast experience and knowledge in journalism, healthcare and education. She has been published in multiple scholarly publications and to this day, she still participates in Journal Reviews. Her previous employments have shaped her into a fierce business leader as well as an inspirational mentor who is respected by anyone she comes into contact with.
With research and education playing a big role in her background, Linda faces situations in life head on and is able to alleviate problematic work situations by developing and explaining working solutions with ease and finesse. Linda also has a psychology background and is continuously expanding her knowledge and understanding of community needs, resources, services, etc.
Linda is affiliated with the National Association of Master's in Psychology, the National Association of Counselors and was a presenter at the Transitional Workshops for Economic Development, Mental Health and Community Development. She is involved in multiple community associations and activities including volunteering for American Red Cross Disaster Team and volunteering for Veteran Hospital Administration. She is a member of the Houston Minister's Against Crime (HMAC) and a facilitator of "Right to Read "program, as well as the Vice-President of H.E.S.T- Educational Division and is a First Aid/CPR certified Instructor for the American Red Cross.
With someone as actively involved and knowledgeable as Linda, Blackstone is lucky to have her on the team!
Isabel Rodriguez
Laredo Business Development Manager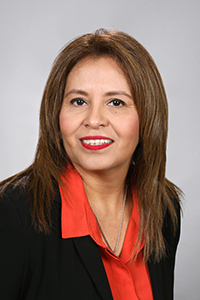 Isabel Rodriguez is the business development manager for Blackstone Laredo operations. As such, she is the lead in expanding Blackstone's client base within greater Laredo metropolitan area. Ms. Rodriguez brings to Blackstone a wealth of varied professional experiences that include, business ownership, management, sales, employee development, customer service, social services, youth services and administrative support.
In her decades of professional experience, Ms. Rodriguez has developed a keen sense of determining a potential client's needs and developing a plan to meet those needs while nurturing a sustained relationship that has benefited clients and Blackstone alike.
During her time with Blackstone, Ms. Rodriguez's business savvy has enabled her to post robust numbers in client development based upon trust, professionalism and follow through. She knows that client engagement is an ongoing process.
A Laredo native, Ms. Rodriguez is familiar with the area's unique culture and business environment and adapts her customer engagement skill set to meet the individual needs of each new Blackstone client.
Blackstone and its clients are fortunate to have someone of Ms. Rodriguez's caliber in the Laredo Division.
Lizette Banuelos
Regional Manager – El Paso/Laredo/Rio Grande Valley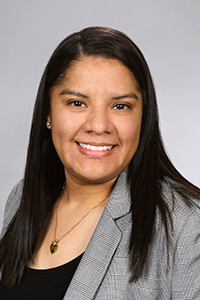 Lizette Banuelos is an incredible manager who has been in the security industry for over 15 years. She began her career as a security officer and worked her way up the ladder, proving herself every step of the way with each promotion she accepted.
Lizette has held multiple positions throughout her security career which makes her an excellent Division Manager for El Paso as she knows what is expected from her team and the responsibilities each of her staffers must complete each day. Lizette lives and breathes security and compliance and this makes her a strong asset for the El Paso Division.
Lizette is responsible for overseeing the entire El Paso Division and she strongly enforces client and company policies and procedures, making sure everything is always secure and running smoothly. Not only is she skilled in handling her manager duties and responsibilities, but she has proven to be an excellent mentor for her security officers for professional growth.
Lizette is bilingual and currently holds a Texas Level II Security Officer License and has active DOD Government Secret Clearance.
David Garcia
El Paso / Laredo Business Administrator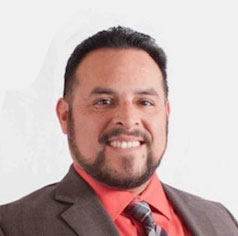 After serving over 23 years of active service in the US Army, David Garcia joined Blackstone in 2016 and is currently the Business Administrator for Blackstone Security Services of Texas (Division 52) in El Paso, Texas.
Due to his training and experience in the military, Garcia served as an account manager for Division 52 for over 2 years. During this time, he pursued his college degree online with Grand Canyon University. As the Division began to grow, Senior Management offered Garcia the position as the Human Resource Manager and Recruiter for the El Paso Division which Garcia accepted. In 2020, Garcia graduated with his Bachelor's in Applied Management with GCU.
In his spare time Garcia can be found hiking and walking/running with his family. His son is currently a student at the University of Texas at El Paso. His wife, also a Veteran, is a Supervisory Army Community Service Specialist at Fort Bliss, Texas. Most of the time, Garcia and his wife enjoy spending time at home watching their favorite TV shows.
Garcia is always planning for the future and some of his future goals are to achieve a master's degree and continue to be part of the growth of Blackstone Security Services, Inc.
Adrian Aragon
El Paso / Laredo Operations Manager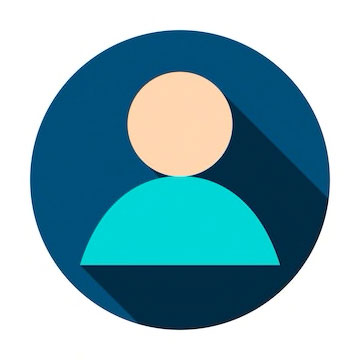 Adrian is proficient in multiple computer software. He has a Level 2 Security License in the state of Texas and a Level 1 Security License in the state of New Mexico. Adrian has been in the security industry for nearly 10 years and has a wealth of experience in providing a safe environment for the community and staff for the multiple companies and industries where he has previously been employed.
Adrian stays up to date in the latest video surveillance software and has worked hand in hand with the El Paso Police Department in the past. He has overseen security officers in previous security occupations and has quickly rose to the top in every endeavor. Adrian has worked his way up in the security industry starting out as a Security Officer and now landing the Operations Manager position for Division 52, Blackstone Security Services in El Paso, Texas.
Adrian is also proficient in daily administrative duties such as payroll, scheduling and training. Safety is of the utmost importance to Adrian and he always makes sure that he is keeping up with the latest licenses and training to be the best and most knowledgeable manager.
With all of Adrian's past experiences he has learned to be extremely patient and observant. He has excellent communication skills and customer service and with his keen eye, he can anticipate problematic situations and safely diffuse them before they get out of control. With skills and qualities like this, Adrian is a thriving addition to the Blackstone Security Services team.
Scott Clark
Regional Manager – Albuquerque/Santa Fe/Gallup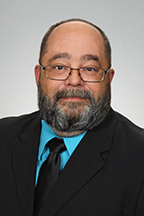 Scott Clark came to Blackstone with many years of security experience as well as an extensive training background in correctional facilities in Arizona and New Mexico.    
Hired initially to manage the contract with the Navajo Housing Authority, encompassing the Western Region of New Mexico and Eastern Arizona, Scott's responsibilities quickly increased to include the cities of Gallup, Farmington and much of the Albuquerque metropolitan area. He is a 15-year veteran of law enforcement operations and aviation security with service in the southeastern and southwestern United States. He is a veteran of the U.S. Air Force where he served as a security policeman.  
Scott was born in Gallup and graduated from Gallup High School.    
During his career, Scott has served as a supervisory transportation security officer with the U.S. Department of Homeland Security Transportation Security Administration, and with FirstLine Transportation Security, where he supervised screening operations at Gallup Municipal Airport. He performed similar tasks in Albuquerque. He is also a former chief of security for an adult detention center in Florida.  
Scott's local roots have worked well for Blackstone and the community. His knowledge of the diverse cultures in Gallup and the Native American Community have enabled Scott to forge a good working relationship with the community. Scott's personal and professional relations span 20 plus years in New Mexico and form a solid foundation to explore additional opportunities to expand Blackstone Security's reach in this town as well as the state.  
Scott and his wife, Lori, have three children.
Rickye Kidd
Las Vegas Business Development Manager
If there is a theme that runs through Rickye Kidd's career, it is "building relationships." That is why since his graduation from the University of Nevada-Las Vegas with a BA in Business Administration, Kidd's career in sales has been so promising. Couple that with his innate knowledge of the Las Vegas business climate and his recipe for success has two of the basic ingredients for success. The third ingredient is the opportunity that was supplied by Blackstone.
Kidd has a proven track record in the Las Vegas market working in transportation, sales, hospitality, event management and account management. As the Business Development Manager for Blackstone's Las Vegas Division, Kidd will use his skill set to give Blackstone the opportunity to provide its unique set of security services to the greater Las Vegas area.
Kidd has enjoyed a progression of successful employment experiences during his career including a sales and service manager, sales and owner relations manager, regional sales manager and business development manager before joining the Blackstone Team.
His skill of developing solid relationships and delivering on those relationships by partnering with clients, accurately assessing their needs, and matching those needs with cost-effective solutions has earned Kidd a reputation of trust in the Las Vegas business community.
Matthew Clay
Las Vegas Division Manager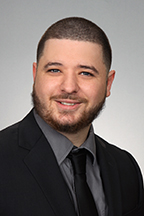 Matthew Clay has spent most of his professional life in the security industry working in the greater Las Vegas metropolitan area for companies that provided security services in the western and southwestern United States.
A veteran of nearly a decade in security, Clay has a familiarity with the security needs of Las Vegas that only a long-term resident with an intimate knowledge of such a demanding environment would have.
Clay's well-rounded view of Las Vegas security is the result of his experience in operations and sales while working with several high-profile companies. His responsibilities included working as an armed security officer, an armed special response team supervisor, a director of account services, operations manager and corporate trainer and an armed patrol supervisor. While working as a director of account services, Clay supervised all aspects of services provided to accounts in California, Arizona, Texas, and Florida as well as Las Vegas.
His administrative experience includes hiring, scheduling, reviewing and distributing reports, ensuring customer satisfaction, rule enforcement and overseeing employee performance. Clay is also indicative of Blackstone's policy of hiring from within the communities it serves for the insight and continuity local residents provide.
Blackstone Security Services of Nevada, Inc. is happy to have Matthew Clay and is excited about the skills and competitiveness he brings to the company.
Spring R. Cargill
Quality Assurance Manager – Las Vegas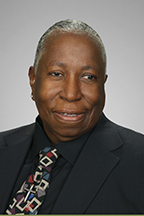 Spring R. Cargill came to Blackstone with a background filled with years of security, dispatching and law enforcement experience. Being a member of a military and law enforcement family, she has always focused on public safety. Beginning at a young age, Spring felt the calling to help people who cannot defend themselves. Spring has five siblings, and she is one of the four siblings that became law enforcement officers. Spring lives and breathes safety and security, which makes her an incredible asset to the Blackstone Team.
With over 20 years experience in the Law Enforcement field, one of Spring's favorite memories while policing was when she was given the opportunity to become a member of the Clinton Democratic Convention Security detail and meet John F. Kennedy Jr.
An active member and a strong advocate for the LGBTQ community, Spring is affiliated with the National LGBT Chamber of Commerce (NGLCC). She is also a member of the Women In International Security (WIIS) and the Nevada Coalition to End Domestic and Sexual Violence (NCEDSV).
When Spring is not furthering her knowledge in the latest and best security practices to keep clients protected and the community safe, she can be found playing music as a DJ and releasing her creative energies through different mediums of art. An admirer of horses, she might even be found at the nearest equestrian facility. 
Mason Appleby
Nashville Division Manager